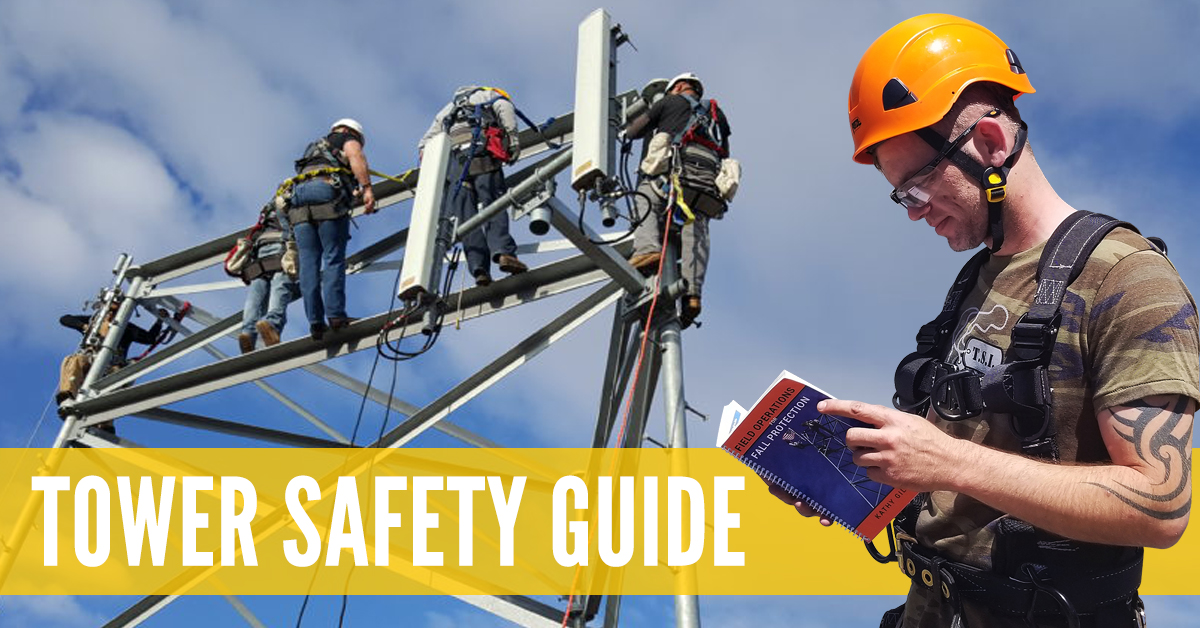 As the founder and owner of Tower Safety & Instruction, I know firsthand the importance of safety in the tower climbing industry. I've taught hundreds of courses over the years and have heard stories both inspirational and heartbreaking about experiences tower climbers have faced when it comes to safety situations. I finally decided it was time to take my passion and dedication for safety to the next level and set about creating a manual. What a learning experience that was! Here's what writing a field operations manual taught me about myself, my audience, and the industry as a whole.
What inspired me to become an author
As I mentioned, I've heard numerous stories over the years about injuries and deaths on the job that could have been prevented with proper instruction. While I knew that those who have taken Tower Safety's courses were well-trained, I also recognized that there are still many tower climbers out there without proper instruction who needed a guide at their fingertips when they faced certain situations in the industry. That's where the inspiration for the field operations manual came to life. This manual was written to provide the climber a quick reference on regulations pertaining to Fall Protection, RF Awareness, Electrical, Aerial Lifts and much more.  According to the National Institute for Occupational Safety and Health (NIOSH):
Circumstances associated with fall incidents in the work environment frequently involve:
Slippery, cluttered, or unstable walking/working surfaces
Unprotected edges
Floor holes and wall openings
Unsafely positioned ladders
Misused fall protection
The manual is small enough to fit into the glove compartment of every work truck and provides colorful images for quick reading. The Field Operations Manual is not intended to replace training but give the climber another tool for his safety toolbox.
What writing this manual taught me
I absolutely believe that Tower Safety and Instruction provides the best instruction out there for the tower safety industry, and I take great pride knowing me and my instructors play a large role in that. But here's what writing a manual taught me:  writing is HARD. I mean, really hard! Even when you're a subject matter expert, taking the time to sit down and put expertise into words in a way that's useful for others was really difficult! I wanted to make sure my manual was accurate, useful, and could help protect someone in a tough situation. I also learned that for as much as I know, it always pays to keep fresh and up to date on regulations and laws. Keeping in mind that I teach about these every day, it was still surprising how helpful it was to have a handy reference at my fingertips. It makes me even more confident that creating this manual was a great idea and could help keep someone safe in the field.
People love this manual
While I knew this manual could be helpful to those in the industry, I learned just how much my audience was craving something like this. I can't tell you how many people have said to me, "I wish I'd had something like this years ago". Wow!  That alone made it all worthwhile. I've heard of unnecessary injuries and unsafe conditions that could have been avoided if someone simply had a guide to show them the way. I knew this was a good idea, and how that so many have come to me to thank me for this guide, know my audience thinks it's a good idea too!
The industry needs to stay safe
The tower climbing industry provides quite a few rules, regulations and guidelines to keep tower climbers safe. However, some of the information is outdated, contradictory, and cumbersome. It's easy to see how someone new to the industry might find it difficult to get the guidelines they need. This field manual can really help the industry elevate its safety record and effectiveness overall.
Tower Safety and Instruction is excited to announce its new field operations manual. If you haven't yet picked up a copy, learn more about it by visiting our website. As always, we welcome your feedback!