Tower Safety and Unmanned Experts have worked together to create the first course in the telecom industry to support the tower crews with hands-on drone flight and safety training.  We have developed the best practices necessary to operate drones safely and efficiently in the telecommunications environment.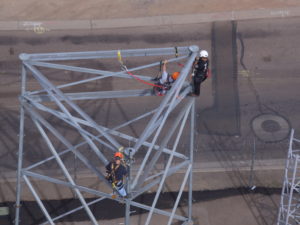 Our Competent Drone Pilot – Telecom (CDP-T) is a drone training program designed for owners, CMs, PMs, Foremen or competent persons to safely and legally fly an unmanned aircraft (drone) and add these systems as part of the standard PPE for cell tower construction and inspection crews.  We understand all the risks involved for tower climbers; so by allowing a crew to safely inspect the cable climbing systems, understand the RF on the tower, conduct a structural analysis and review safety/inspection requirements BEFORE climbing adds another level of personal protection.
The 32-hour CDP-T course trains students to fly a Small UAS (SUAS) around communication towers. The course consists of 32 clock hours with 14 hrs online (PT107OL), 2 hrs of FAA examinations (Part 107) at a certified center and 16 hrs (2 days) classroom and flight time. A Competent Person CDP-T Pilot's license and Certificate of Completion is good for 2 years.
Want to learn more about drones? Check out these two videos: