1926.759(a)
Securing loose items aloft. All materials, equipment, and tools, which are not in use while aloft, shall be secured against accidental displacement.
Protection from falling objects other than materials being hoisted. The controlling contractor shall bar other construction processes below steel erection unless overhead protection for the employees below is provided.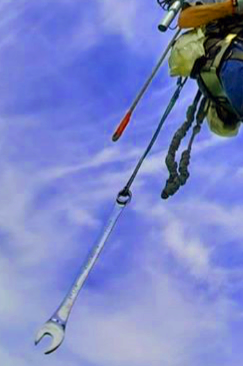 On a clear, sunny day in May, a crew of 5 is stacking a tower; a JSA was completed, crew had all their certificates, but something was overlooked – PPE Inspection. The climber did not properly tighten his body belt, causing the tool bag connected to his harness to fall and crush the face of an employee on the ground.
PPE inspections are to be performed according to 29 CFR 1926.95. Many times, the harnesses are too large – or too small — for the students. For example, employers may only have specific sizes in inventory and the new employee needs a small and they give him a large or vice versa. This is a common issue; leg straps are too big, sternal D-ring is too loose, back D-ring is too low, the belt doesn't fit, and chest straps are too loose, causing improper wear of PPE and dangerous to the employee when working at height.
The improper donning of a harness led to dropped tools and serious injury to an employee. A interesting article by Mark Caldwell, former CEO of Python Safety and Director of Fall Protection for Tools at Capital Safety and 3M: https://www.constructionbusinessowner.com/safety/safety/may-2016-stop-underestimating-dangers-dropped-objects talks about the forces a dropped tool can create causing possible injury or death to the worker.
"For example, a 3-pound tool falling from 200 feet strikes the earth with 1,062 pounds per square inch of force. But what does that mean? It means that hardhats and drop zones are of little consequence when an object carrying this kind of energy makes a direct impact or deflects off of another object before it hits the ground"
"For example, an 8-pound wrench dropped from 200 feet would hit with a force of 2,833 pounds per square inch. That is the equivalent of a small car hitting a 1-square-inch area"
According to the Bureau of Labor Statistics, more than 52,000 workers are "struck by falling object" along with OSHA recordable incidents annually. ANSI recently released their new standard: ANSI/ISEA 121-2018, Dropped Object Prevention Solutions to reduce workplace accidents, injuries, and deaths related to falling objects
OSHA recordables for dropped tools:
https://www.osha.gov/pls/imis/accidentsearch.search?sic=&sicgroup=&naics=&acc_description=&acc_abstract=&acc_keyword=%22Falling%20Object%22&inspnr=&fatal=&officetype=&office=&startmonth=&startday=&startyear=&endmonth=&endday=&endyear=&keyword_list=on&p_start=&p_finish=0&p_sort=&p_desc=DESC&p_direction=Next&p_show=20
A dropped tool program – think of it as fall protection, but for the tools — and a thorough PPE Inspection training course is a necessity that is often overlooked. Perhaps need to include it into the JSA and Certificationsto ensure the safety of everyone at a tower site. There are many tools available to prevent dropped objects and it is the responsibility of the company, the CM, the Foreman, the employee, and the crew to ensure they understand the dangers faced when working at height with objects that can be dropped.