Tower Safety – Who We Are

About Us Tower Safety :
Kathy Gill and Tower Safety courses have instructors with extensive knowledge in rigging, climbing, rescue, and installation.  We have trainers with over 40 years of industrial, fire, and mountain rescue rescue and rigging experience. Tower Safety offer the best of all the rope access, industrial steel, and confined space training.

Tower Safety and Rescue and Telecom training courses focuses on quality and trusting your equipment rigging techniques, and the responsibility of being accountable.
Tower Safety   has a 60′ self supporting training, 25′ self supporting training tower, 16′ indoor self supporting training tower, 70′ monopole training tower and a quality course in Phoenix, AZ.  They are available anytime for contractors to practice fall protection, rigging, and any safety concerns for their cell tower worker.
Tower Safety Training
Prepare, Plan, and Practice
Call Tower Safety™ and Rescue at 480-313-0678/602-900-7668 or email: [email protected]
---
3212 S. 36th street, Phoenix AZ 85040 ( RF Awareness, OSHA 10 and OSHA 30, ANSI 10.48 Competent Rigger, ASHI First AID/CPR, Authorized Climber, Competent Climber,  Competent Rescuer Training, Train the Trainer for Rigging and Climbing, SPRAT)
Tower Safety Cell Tower Rescue and Cell Tower Instruction Courses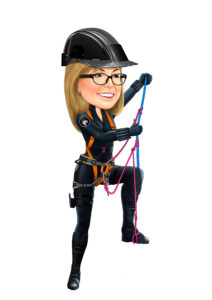 Kathy Gill  founded  Tower Safety in 2013, having years of direct experience in the industry. Kathy served as the Safety Director in the wireless industry and a outside plant installer for AT&T/Lucent. An experience in which lead her to believe she could start making small changes in the industry, one student at a time. Through her own time in the field and her interaction with employees, she has become all too familiar with harmful, and even fatal mistakes, that could have been prevented by developing a safety mindset. Kathy and her team strive to create an educational facility that focuses on the "why" safety is important in this dangerous industry of cell towers.
Tower Safety Training and Rescue courses