Competent Rigger Training -ANSI 10.48
ANSI 10.48 Competent Rigger Training Course
The Tower Safety ANSI 10.48 Competent Rigger course is designed to include the OSHA requirements for safe construction rigging work practices in the United States defined in the Code of Federal Regulations Title 29 Part 1910 and 1926, SubPart E, G, H, I, N, O, R, T, U, and V. TIA – 1019-A ,TIA 222, and TIA 322 Standards for Installation, Alteration and Maintenance of Antenna Supporting Structures and Antennas. The new ANSI 10.48 Standards Criteria for Safety Practices with the Construction, Demolition, Modification and Maintenance of Communication Structures.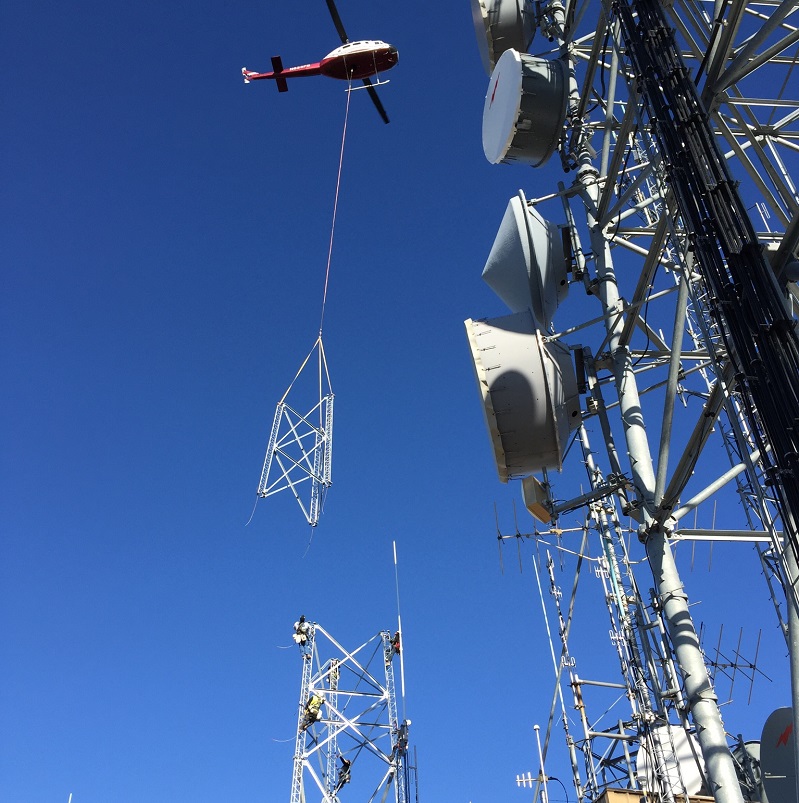 ANSI 10.48 Competent Rigger Training
Rigging is one of the most important safety and risk exposure considerations on any construction project and Tower Safety reflects that importance in our Competent Rigger Course.
Rigging Plans
Mechanical Advantages
Unforeseen Forces
PrePlanning of rigging operations
Periodic and frequent inspection of tools and equipment
Monitoring of rigging work operations
OSHA Rules and Regulations
ASME B30
Capstan Hoist use and problem solving
Hand Signals – Download our free Crane Hand Signal chart
Students are  provided with a ANSI 10.48 Tower Safety Competent Rigger Handbook that fits into a glove box of the truck for a quick reference manual. The Tower Safety ANSI 10.48 Competent Rigger Handbook is a manual about safe rigging practices, sling angles, crane hand signals, tag line angles, and Class 1,2,3 and 4 rigging.
Need a Competent Crane Signal Person Course?
Tower Safety is changing the "Safety behavior one student at a time!" go ahead do something impossible today, Get Tower Safety Certified!
Call us , And Schedule YOUR ANSI 10.48 Competent Rigger Training, Capstan Training, and Hand Signal training, we will visit your location or we would love to see you at one of our training locations. 
[email protected]
602-900-7668/480-313-0678
3212 S. 36th Street, Phoenix, Arizona 85040
Competent Rigger Training Classroom Learning Objectives
Competent Rigger: This course discusses the fundamentals of rigging.
It is designed for rigging and handling loads in wireless construction that must
adhere to the OSHA and ANSI/TIA 1019 regulations
Policies, OSHA, ANSI 10.48 standards, TIA 1019 and TIA 322 rigging regulations Tower Safety
Rigging Plans
Rigging Components
Rigging Identification
Center of Gravity
Steel Slings/Synthetic Slings/Rigging Hardware/Sling Protection
Recognize where the horizontal sling angles are located in a rigging triangle.
Determine how to calculate the load angle multiplier for slings.
Calculate sling tension when the center of gravity is in the middle of the load.
Mechanical Advantages
Load Factor
TIA 322
Capstan Rigging
Crane Hand Signals
Call us – 480-313-0678 and Schedule A Competent Rigger Training !
We will visit your location or would love to see you at our training facility in Phoenix, AZ; We know your time is valuable and lets us work with your schedule. We are available evenings and weekends. 602-900-7668/480-313-0678  [email protected]
Tower Safety is proud to be working with 

Do you know your Forces, Tag Angles, the Math?